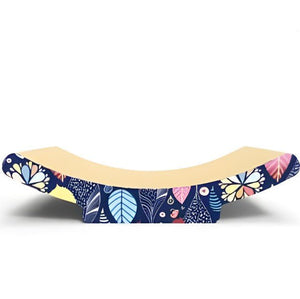 (100% No-Risk, Money Back Guarantee) 
Purring Garden Cardboard Cat Scratcher and Lounge offers the perfect two-in-one cat scratcher. The perfect place to scratch and nap. Purring Garden uses high density cardboard flute structures for maximum durability. And this scratcher is made with only cat-safe rice glue and soy-based ink. Purring garden is also made from eco-friendly recycled and recyclable materials. Its unique concave shape also offers the perfect spot for your cat to feel snug and secure while curled up for a nap. 
😸 Made from High-Density Corrugated Cardboard for Maximum Durability.
😸 Constructed with Cat-Safe Rice Glue.
😸 Made from Environmentally Sustainable Recyled and Recylable Cardboard. Keep your cats claws and the planet healthy.

😸 Graphics Printed with Cat-Safe & Renewable Soy Ink. Better for Your Cat and the Planet.
😸 Concave Shape Offers a Cozy Nook for Your Cat to Nap.
😸 Cat-Family-Owned Company. 
😸 Two-Day Shipping Available.

😸 No risk. Returns are Free and Backed by a Full Money-Back Guarantee.
| | | |
| --- | --- | --- |
|    | | |
| | | |
| --- | --- | --- |
|  Cat-Safe Soy Ink | Scratchers with non-toxic glue |  Recycled Materials |